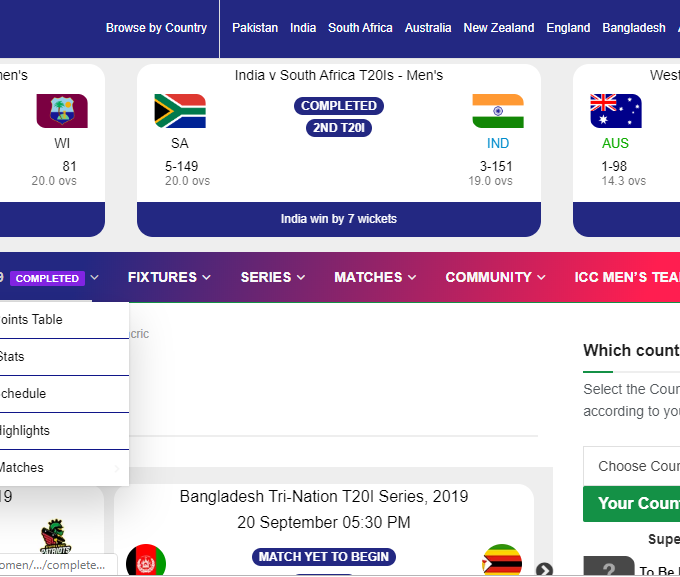 Do you want to know how to build a cricket website? You have come to the right place.
Cricket is a beautiful sport that is enjoyed by millions of people around the globe. After being invented in England several hundred years ago, today it is most popular in Australasia, Great Britain and Ireland, the Indian subcontinent, southern Africa and the West Indies.
The sport is also complex game, which poses its own set of requirements for a cricket website. In this tutorial we want to go over how to build a cricket website in WordPress complete with Series ,Matches, players and teams as well as Rankings. In addition to that, we will also show you how to display all of that information on your front page.
Don't worry if that sounds like a tall order, you will see it's actually quite easy. Ready to go? Then let's get started.
Building a Cricket Website From Scratch with WordPress
In the following will go over how to create a website for a cricket team, club or league. To get started, all you need is a fresh WordPress website. In case you don't know how to set one up, this tutorial will help you. Everyone else can move on to the first step.
1. Install the Ultimate Live Cricket Plugin
To build our cricket website, we first need to install the Ultimate Live cricket plugin. It has all the functionality we need to build a full-fledged Cricket website.
Therefore, go to Plugins > Add New and enter Ultimate Live Cricket WordPress Lite as your search query. The plugin you are looking for should be in the first place.
In any case, you need to click Install Now for Ultimate Live Cricket WordPress Lite to download it to your site. After that, don't forget to activate!
2. Configure Ultimate Live Cricket WordPress Lite
Once the plugin is active new menu on left side will show.Click on menu and configure the plugin. ULCWP created all necessary pages for plugin (series,Matches,Match detail,Player stats).
Optional: Install a Ultimate Live Cricket WordPress Lite optimized Theme
Ultimate Live Cricket Score WordPress Lite is built to work with any theme, however, some themes might need additional customization to make everything look flush. To avoid this, at this point it might be a good idea to install a ULCWP optimized theme.
For example, for this tutorial we will use the Color News that can be found in the WordPress theme directory. Yet, if you are looking for a cricket theme, you might also consider checking out Jnews which has Lot of build in features.
Ultimate Live Cricket WordPress Pro
If you need more features like header slider,Fixtures,Ranking etc. You can buy Pro version here . Shortcodes included in Pro version list here 
Links of Live Score Articles